COMPLIMENTARY EXPRESS SHIPPING IN AUSTRALIA / NZ ON ORDERS OVER 250AUD | 500 USD ON INTERNATIONAL ORDERS
COMPLIMENTARY EXPRESS SHIPPING IN AUSTRALIA / NZ ON ORDERS OVER 250AUD | 500 USD ON INTERNATIONAL ORDERS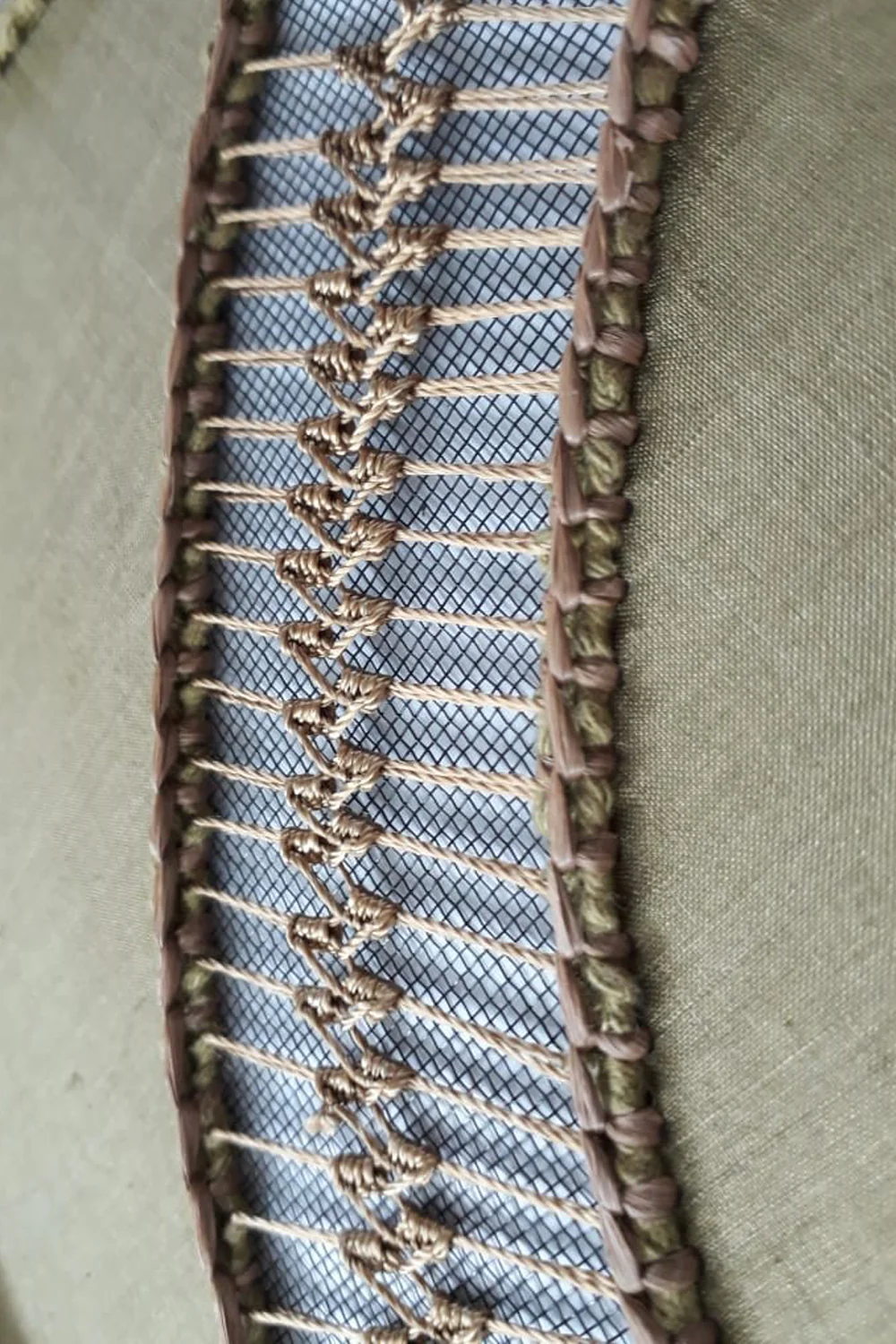 All garments from
Nina Après Swim
have been thoughtfully and expertly handcrafted, with a range of traditional and highly skilled techniques such as silk handweaving, embroidering and applique. Handcrafting techniques are an essential part of what makes us Nina Après Swim. Read on to discover the intentional reasons behind why we use handcrafting in the creation of our timeless après swim apparel.
Influenced by Family and Traditions
Handcrafting the resortwear garments of our collection pays homage to designer Natasha's Macedonian heritage, which is the underlying meaning behind the Hidden Heritage collection. In fact, the names for the
Slava Embroidered Shirt
and
Eustacia Fringe Ves
t are inspired by the names of Natasha's grandmothers,
"two women who were both very skilled in the art of weaving, knitting, and sewing beautiful shirts by hand,"
shares Natasha.
"These homespun shirts would often be pieced together with various fabrics, as they would use remnant, pre-worn materials, and commonly feature underarm gussets, side panels and other inserts meticulously hand-stitched with delicate, precise stitching."
In this way, many of the pieces of the collection have been influenced by Natasha's family, as well as feature designs and techniques inspired by traditional Macedonian handcrafting.  
Ethos of a Slow Fashion Brand
The handcrafting of our collection is also an integral part of how Nina Après Swim is a slow fashion brand, and a label that invests a great time and care, and a high level of skill in the creation of our exclusive pieces. "My mantra is 'quality over quantity'", explains Natasha. "I aim to create fewer garments, that are unique and exquisitely made, with timeless appeal, so they can be handed down from one generation to other." True to Nina Après Swim's slow fashion ethos, the handmade creation of each individual garment from the resortwear collection involves a long and highly intricate process, with many hours taken to complete the handmade elements of each piece. 
High-Quality, Ethically Made Garments
As well as being part of our slow fashion ethos, the handcrafting of our designs is an important part of Nina Après Swim's sustainable and ethical principles. We use high-quality fabrics that have a lower environmental impact and ensure that all our garments are ethically sourced and made from start to finish. "Fair work is very important to uphold in the fashion industry. All employees who create our apparel are provided a safe and fair work environment," shares Natasha. "And we are also very mindful and resourceful about energy and water use, and dyeing techniques—all are conducted with the least possible impact to the environment."
Just as the handmaking knowledge for the intricately created garments of the collection have been passed down for generations, each garment itself is designed to last for generations in your family. When you purchase and wear a Nina Après Swim garment, you know that an exceptional level of craftsmanship and detail have gone into the making of the piece, and that it will stay with you for lifetimes.
Click here
to watch as the Hidden Heritage garments are intricately created by hand...