COMPLIMENTARY EXPRESS SHIPPING IN AUSTRALIA / NZ ON ORDERS OVER 250AUD | 500 USD ON INTERNATIONAL ORDERS
COMPLIMENTARY EXPRESS SHIPPING IN AUSTRALIA / NZ ON ORDERS OVER 250AUD | 500 USD ON INTERNATIONAL ORDERS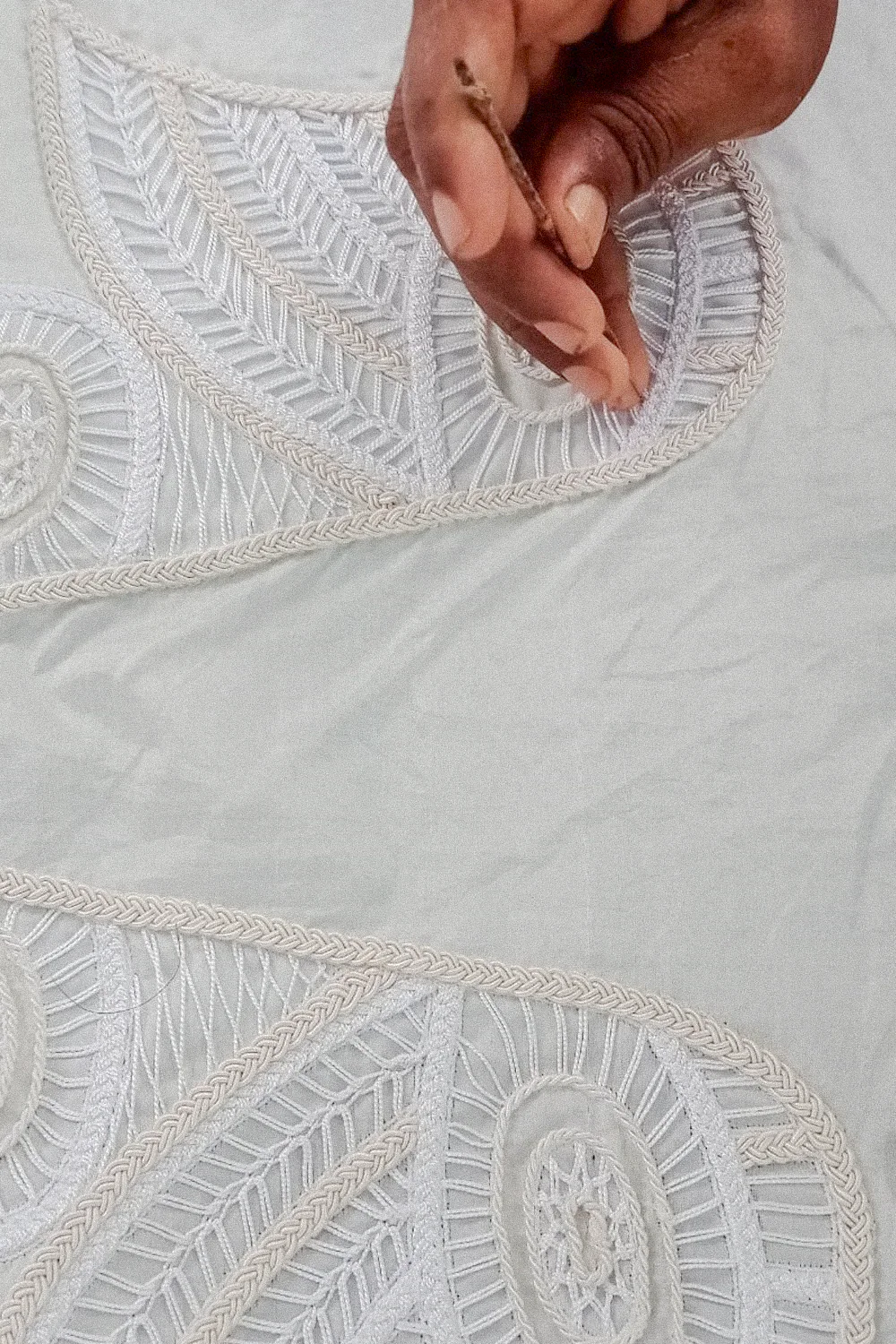 The garments of Nina Après Swim have been thoughtfully designed to incorporate the timeless art of embroidery. A specialised handcrafting and decorating technique, the art of embroidery dates back thousands of years. Today an art form that re-interprets traditional skills, embroidery has been intricately and meaningfully woven into the garments of the
Hidden Heritage collection
.
What is Embroidery? 
Embroidery is the skillful craft of hand-decorating fabric, textiles and clothing. The word embroidery comes from the French word broderie, which means embellishment, and it is through this process of embellishment that the process of textiles creation is taken from the utilitarian to a form of high art. With each technique stepped in rich local and cultural traditions, there are several differing forms of embroidery. To name a few: plain or flat embroidery involves needlework designs on a fabric base; tapestry embroideries are embroidered embellishments that resemble woven tapestries; and applique embroideries are ornamental embroidered designs that are made separately and affixed to textiles.
A Brief History of European Embroidery
The history of embroidery dates back thousands of years to BC times, with the art form practiced in cultures across the world, each with their own distinct styles. In Eastern Europe, the practice of embroidery began to rise and flourish from around the 11th century (1000–1100AD) in tandem with the rise of Christianity during Byzantine times, with a strong symbolic attachment to the church, power and wealth. Since these times, the creative art of embroidery has had a long tradition of amateur and professional production in Europe, and has historically been a powerful way for people to decorate, personalise and imbue their textiles and clothing with rich personal and cultural meaning.
Embroidery in the Hidden Heritage Collection 
Many garments from the
Hidden Heritage collection
have intricate hand-embroidery incorporated into their designs. Influenced by her own family's history of embroidering and handcrafting clothing, it was very important to designer Natasha to intertwine handcrafting and traditional techniques into the creation of the après swim garments.
Natasha found inspirations for the collection's embroidered motifs featured in the centuries-old basilica churches of Ohrid, North Macedonia, many of which were first built during the Christian Byzantine period. 
"The delicate embroidery of the Basillica Shirt is inspired by the ornate shapes and architectural artistry of Ohrid's basilica churches, with their beautifully sculpted, tall arches, colonnades, and spectacular domes,"
shares Natasha. Other garments have been created in reflection of the traditional Romanian point lace technique.
"Channelling the opulence of mosaic art, the Galla Top has a fully interwoven neck and armhole embroidery, loosely inspired by the Romanian lace technique, combining crochet, embroidery, weaving, knotting, looping to create artful, fragile shapes, supported by the outer chain structure."
A few pieces from the collection have embroidered patterns which have been used as a technique to evoke the medieval art of filigree, a form of intricate metalwork. "It essentially involves knitting a very thin, already processed metal wire, sometimes as thin as a fibre, often combined with tiny beads and arranged in artistic motifs," Natasha explains. "There is now a sharp decline in handmade filigree as the machine-produced objects are less costly and time-consuming; similarly so to the art of hand-embroidery and handweaving." Preserving and representing these traditional art forms in the field of artistic crafts in a sustainable way is something at the heart of Nina Après Swim.
Watch the hand-embroidering techniques used in the making of the Hidden Heritage collection.