COMPLIMENTARY EXPRESS SHIPPING IN AUSTRALIA / NZ ON ORDERS OVER 250AUD | 500 USD ON INTERNATIONAL ORDERS
COMPLIMENTARY EXPRESS SHIPPING IN AUSTRALIA / NZ ON ORDERS OVER 250AUD | 500 USD ON INTERNATIONAL ORDERS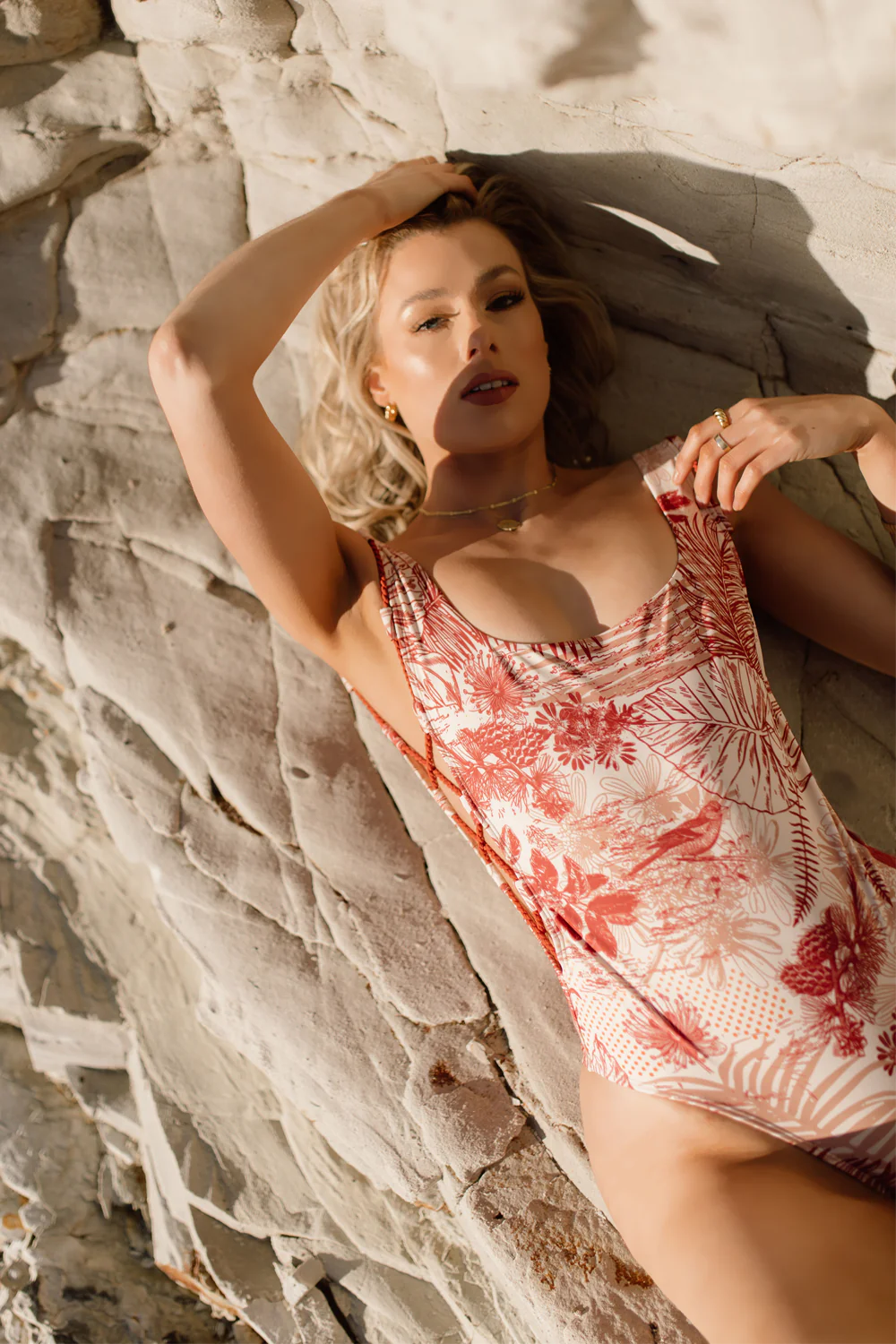 Meet our Sophia Swimwear
Designed in reflection of the architecture of Ohrid's St Sophia Church, our Sophia Swimwear includes two statement pieces which flatter their wearer with softly scooped necklines and statement cut-out sides.
The Sophia Tank One-Piece
Featuring accentuated cut-out sides with twisted cord detail and a dramatic yet softly scooped back, the
Sophia Tank One-Piece
delivers a stylish and elongated aesthetic.
The Sophia Plunge One-Piece
With its dramatic plunging neckline and wrap-around waist cut-out detail, the
Sophia Plunge One-Piece
makes a bold and elegant statement.
Inspired by…
The rich rust and dusty pink palette of our Sophia Swimwear has been inspired by the aesthetic of the church of St Sophia (Holy Wisdom) in designer Natasha's hometown of Ohrid, North Macedonia. With a history dating back to the 9th century, this beautifully restored church today houses the biggest gallery of frescoes from the Byzantine world dating to the 11th century.
 Elements of the architecture of this historic church can also be found in the plunging necklines and scooped out backs of the Sophia Swim pieces, which have been designed in reflection of its centuries-old arcs and curves. And paying homage to where Natasha now calls home, our Sophia Swim print details native Australian flora and fauna.
Made from…
Our Sophia swimwear pieces are made primarily from recycled polyester and blended with spandex using ethical and fair work practices. We include the use of recycled pre- and post-consumer materials in the making of our swimwear in line with our sustainable, low-impact ethos.
 Pair it with…
The Sophia Mini Dress
So too inspired by the beautiful church of St Sophia, the
Sophia Mini Dress
completes the aesthetic of our Sophia Swim pieces with a timeless sophistication.
The Theodora Dress
Each featuring a scooped cut-out back, the
Sophia Tank One-Piece
and the
Theodora Dress
offer complementary takes on the historic architecture of Ohrid. Transition from beach to bar with this elegant pair.
The Basillica Blouse
The perfect combination of playfulness and sophistication, we just love the pairing of statement Sophia Plunge One-Piece with the delicate
Basillica V-Neck Blouse
. This pair is perfect for all activities in and around the water.