COMPLIMENTARY EXPRESS SHIPPING IN AUSTRALIA / NZ ON ORDERS OVER 250AUD | 500 USD ON INTERNATIONAL ORDERS
COMPLIMENTARY EXPRESS SHIPPING IN AUSTRALIA / NZ ON ORDERS OVER 250AUD | 500 USD ON INTERNATIONAL ORDERS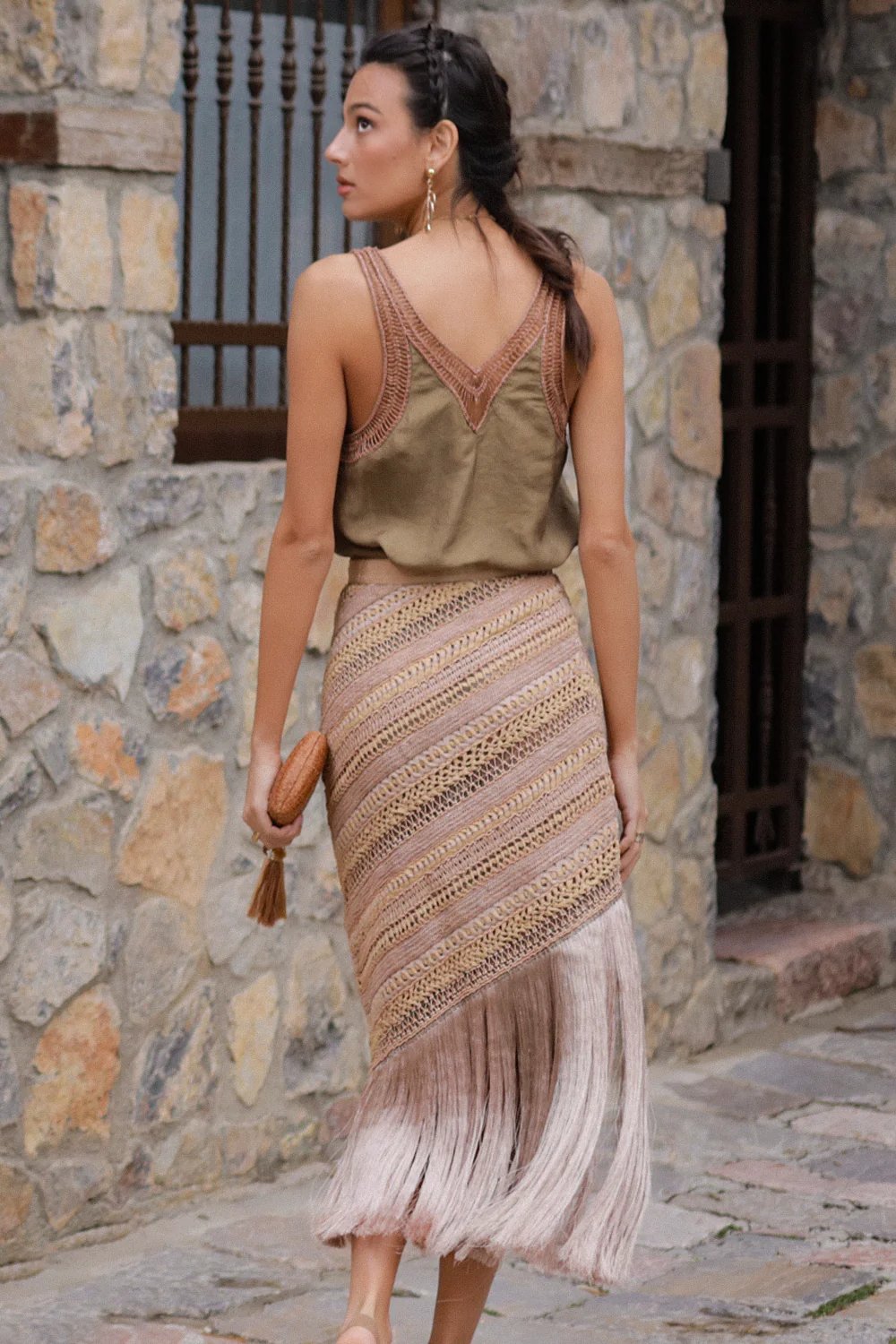 An elegant statement piece for the most modish of wardrobes, the
Ochridia Fringe Skirt
features a colour palette inspired by Ohrid's Old City, a UNESCO-protected old town with a rich medieval, Byzantine and ancient history. Read our latest journal entry to learn about the making of this beautiful piece from the Hidden Heritage Resortwear Collection.
 Inspired by…
Intricately handcrafted from delicate materials, the
Ochridia Fringe Skirt
has been woven in image of traditional Macedonian rug hand weaving, translated into an earthy and natural colour palette. To achieve the rustic and timeworn aesthetic of this long-time art, various materials, cords and remnant fabric pieces have been combined to create this elegant asymmetrical piece. 
Made from…
Materials used in the making of the
Ochridia Fringe Skirt
include silk tape and cords, viscose threads and mohair wool yarn, which have been combined using traditional techniques to create a highly tactile and visually captivating garment. The piece features a grosgrain ribbon waist band and a silk organza backing on the inside of the garment, which ensures a smooth and comfortable finish with a truly fine quality.
 The making of…
The
Ochridia Fringe Skirt
  is entirely handcrafted with an intrinsic technique that requires highly skilled artisans to work on it. The unique pattern is completed by delicately interweaving diagonal sections with different pattern designs.
Firstly, the front and back panels are individually arranged on a frame, weaving the various segments in a diagonal direction, as well as twisting and folding the individual silk cords and viscose threads.
The front and back are then securely joined at the side seams and enclosed with silk organza binding. The inside of the skirt is lined in delicate silk organza fabric, providing just enough coverage, yet not concealing the complex embroidery. 
Finally, the asymmetrical hem is finished with a long rayon fringe. It is first combed to remove any roughness, then made into small bundles and hand-dyed to our colours, and once-again combed to achieve a smooth finish and sheen.
Wear it…
The
Ochridia Fringe Skirt
is the perfect addition to the wardrobe of the 'Nina woman'…  who is cultured, in-the-know when it comes to fashion and ready for travel in wonderful locations around the world. Envisioned to be worn at fashionable outings and sophisticated evening events, the Ochridia Fringe Skirt will form a meaningful and memorable place in your collection.
 Shop the  
Ochridia Skirt
  for your next event or destination getaway.